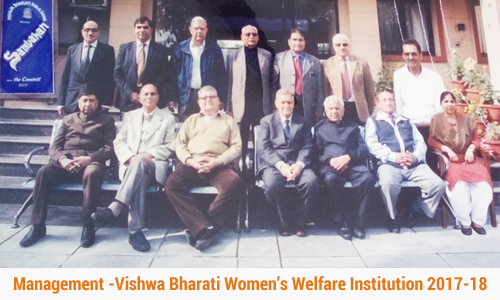 The Vishwa Bharati College of Education is the first teachers training college in the private sector of Kashmir province that has been accredited with B+ Grade by NAAC, Banglore in March 2007. The institution is registered under the societies Registration Act and is managed by an Autonomous Board of Directors. The college of Education, established in 1980 in Rainawari, Srinagar, Kashmir at back waters of Dal Lake has a standing of about thirty seven years and is recognised by the Govt. Of J&K State. It is affiliated to the University of Kashmir which holds the B.Ed examination and awards the degree.
After shifting from Kashmir in 1990 due to turmoil in the valley, the college is, at present located at Akalpur Morh, Jammu, about 6.5 Kms away from the Bus Stand. It is spread over 20 Kanals of Land and has five blocks. It is surrounded by congenial environment, beautiful landscape and calm and quiet atmosphere to enable the trainees to devote quality time to their academic pursuits. A lotus pond with a fountain in the centre adds to the aesthetic beauty.
An exclusively women's college till 2009, it was granted permission by the university of Kashmir to enroll boys as well to cater to the growing demand of Teacher Education. Accordingly, the college at present is a co-educational institution, where, of course, a very large number of female students seek admission owing to adequate infrastructure already created for them.
The college has highly qualified and competent faculty backed up by an adequate and efficient Administrative set up in addition to a highly dedicated and devoted management. The prime target of the faculty is to inculcate strong intellectual, moral, physical, aesthetic attitudes and ideals among teacher trainees through curricular and co-curricular activities so that they become the thoughtful architects of future India.
The college has also partnered with IGNOU under their convergence scheme. These courses offered under this scheme were BPP,CFN, CIT, DCE, B.A, M.A Edu., BCA and MCA. The courses facilitated those students of the society who were not in a position to join school/college on a regular basis because of their personal problems. The courses also provided an opportunity to the adults for upgrading their academic career and to enhance their proficiency. The college has also been partnering with the Jammu University in several extension programmes.
The residential hostel of the institution has the capacity to accommodate 360 students at a time. Female students from other degree and professional colleges, working women or trainees etc. can also avail the hostel facility provided by our college. The Hostel building has a grand auditorium which is quite spacious and designed in a way to accommodate and organize regional and state level seminars, workshops, debates, conferences and cultural programmes. It provides all the facilities like Public Address System (PAS), use of electronic gadgets like LCD, OHP, Slide Projector etc. In addition, it has a Doctors Room Warden Room, two dining halls, recreation room, reading room and multiple balconies. Our endeavour is to provide all the facilities to make the stay of inmates enjoyable and comfortable. It is a home away from home.
The broad aim of the college is to inculcate the qualities of humanism, secularism and democratic values among the trainees and to train them as catalysts of social change and promoters of National Development.